Hey guys!
The weekend in Sydney was incredibly nice! I went there visiting a friend from Germany, who is working as a nanny. I arrived Thursday evening and we had Pizza with her host family. It was a totally new side of Australia, because I didn't get in touch with any kind of Australian family life yet. But, as expected, it was really relaxed and filled with lively conversations. It fit perfectly into the Australian lifestyle, as far as I know it now
My friend had to look after the two years old child of the family on Friday, so we just took him with us to the city. We went to Paddy's market which is huge market hall with a lot of touristic souvenirs and fresh veggies and fruits. Above there is a shopping mall with outlets of some of the Australian fashion stores where I bought some cloths. Afterwards we walked to Darling Harbor, which is the smaller one of the two harbors of Sydney. It's really a pity that Brisbane isn't located directly at the sea. Those harbors create a unique atmosphere! We went back home, had dinner and then returned to the city to see the VIVID, which is a big festival of light and music! I don't know what the Circular Quay (the second harbor) normally looks like… but like this it was amazing! They projected little movies and colored lights on the big buildings. The Custom House, the Museum of Contemporary Art Australia and the Opera House.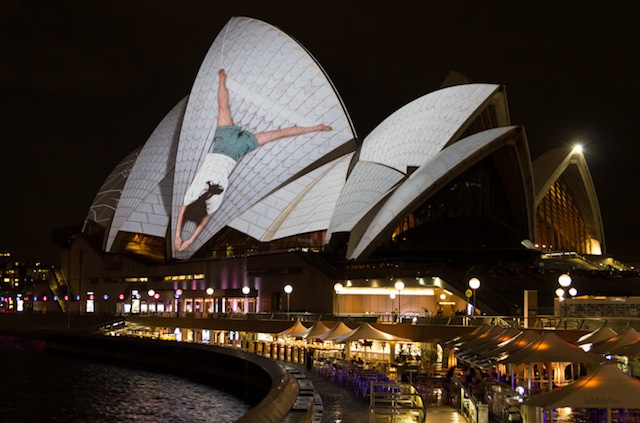 Thousands of people came together and watched the spectacular. All over the Circular Quay there were little games people could participate in and structures made out of light. The Opera Bar played minimal music, people could dance and it was just amazingly beautiful!
On Saturday we to a sightseeing walk through the city, did some shopping (again
) and visited  The Rocks Market. They had a lot of souvenirs and good food 
On Sunday we took a walk from the beach in Cugee to Bondi Beach.
It took us around 2 hours and the path went along the coast. The house of my friend is also in a walking distance to the beach, so she could just walk there and go surfing. Isn't that perfect? I think the best of Sydney is its location at the sea. The Circular Quay and the coasts is so close to the inner city! In the late afternoon we watched the sunset from the Botanical Garden. It was a great view to the Harbor Bridge and the Opera House, bathed in red sunlight..
Then we took the ferry to Manly. I really would have loved to see Manly by day, but even at night it looked like one of those cute, little towns along the Eastcoast of Australia. Nothing made you think that it's so close to a major city! Nice little stores, little beach..  
So Manly is absolutely worth a visit!!
My flight back to Brisbane went Monday really early. Even though I liked Sydney, it was a like coming home again. I live here for only five months now, but I really fell in love with Brisbane.
But being back also meant that exams were about to come closer. Lectures are finished now and actually there is a lot of time to study… but there are still so many nicer things to do  :P  But however, I started to prepare myself for the exams and still have a lot of time to hang out with my friends! There is one thing that is really sad these days. Most of my friends just studied in Brisbane for one semester, so they are about to leave within the next weeks. So when I come back from travelling they will be gone. However I am sure, that my second semester at UQ will be as perfect as was the last one. Maybe even better
We'll see.
Last Monday there was the End of Semester Boatparty of Quest. That was really fun
About 100 people on a boat that goes up and down the river for 3 hours! Awesome music, awesome people, awesome time   I will definitely join the Quest Society again next semester!!
Next time I can tell you how the first exam went!
Anja